The top five moments that marked week 6 of the MLS
The moments that stood out during week 6 of the MLS. On came San Jose's first victory, the sent off of Rooney and the tantrum of Nani.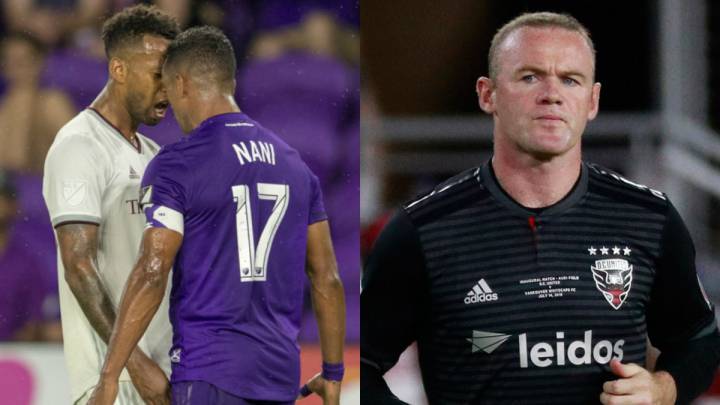 The week 6 of the 2019 MLS season came to an end with the game between Cincinnati and Sporting Kansas at Nipper Stadium, that ended in 1-1 draw. However, the moments that mark the week is the first red card of Wayne Rooney in the MLS, that LAFC remains unstoppable, San José got his first win of the season against Portland, and Nani lost his temper in the game where Orlando City faced the Colorado Rapids.
San José Earthquakes earns his first win
The Quakes received the 2018 runner-ups as the underdogs, but from the very beginning, Matías Almeyda squad took possession of the ball, something that reflected on the board as San José scored three goals that earned them their first victory of the season.
Rooney's first red card
DC United were losing 3-0 to LAFC at Audi Field when the top figure and captain of the team made a strong entry over Diego Rossi, the referee sanctioned a yellow card at first but after reviewing the play with the VAR, changed his decision and showed the red card to Rooney.
Nani loses his head
Nani showed a face he had not taught long ago in the game against the Colorado Rapids, the Portuguese striker lost his temper and had a confrontation with Kellyn Acosta. Nani was asking for a penalty when he went crazy and went face to face with Acosta, thanks to Howard's intervention things didn't escalate entirely.
Everything ended in a tantrum of the Portuguese who threw himself to the floor when the referee didn't mark anything.
Los Angeles FC unstoppable
Carlos Vela squad seems a perfect machine after six games, even though the match between the best teams of the Eastern and Western Conference was supposed to be a close one. LAFC won 4-0 against Rooney's team and Diego Rossi scored a hat-trick.
From 2018 star to the bottom of the table
Atlanta United and Portland Timbers were the main stars of the 2018 MLS Cup, teams that didn't go through a lot of changes for the new season, sit now at the bottom of the table in their respective conferences.
Atlanta did have major loses like Gerardo 'Tata' Martino and Miguel Almirón but gained Frank de Boer and Pity Martínez. However, the 2018 champions have not managed a single victory.
Portland, on the other hand, hasn't won either but Savarese's team didn't have any significant loss and still doesn't managed to show the football that took them all the way to the final last season.