Canelo Álvarez about fight with Jacobs: "The KO is at the door"
The Mexican boxer, Saúl Álvarez, who will face Daniel Jacobs on May 4 in Las Vegas, spoke at a press conference regarding the fight.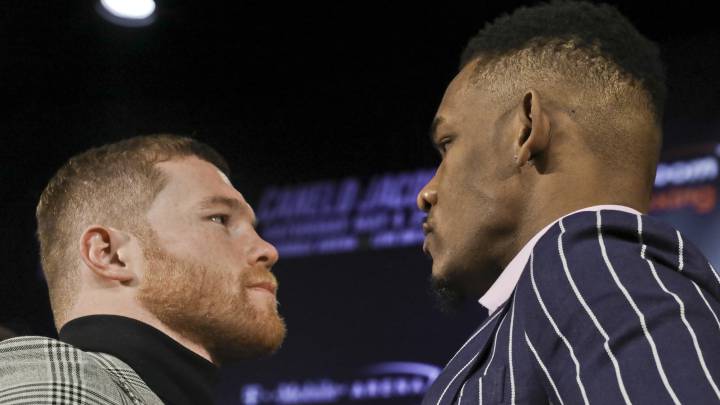 The countdown to the fight between Saúl Álvarez and Daniel Jacobs has officially started with the press conference that both fighters offered in New York. Both boxers were measured at the time of their statements and began throwing their first punches before going into the ring.
Canelo threw a hook mentioning that he trains for twelve rounds, also contemplating the possibility of beating Jacobs through the chloroform on May 4 at the T-Mobile Arena in Las Vegas.
"In boxing everything can happen, the KO is at the door, we prepare for 12 rounds, but if the knockout is on the cards I'll take it, I'm ready for everything that happens," said the Mexican.
On the other hand, Canelo stated he wants to represent his country in the best way possible preparing to beat the American as he knows he'll have a tough opponent.
"I'm very proud to represent my country; I always like challenges, now there is a great challenge in front of us. We know Jacobs skills hand we know what he'll bring so we'll be ready as always," stated Alvarez.
Canelo Alvarez also talked about Daniel Jacob style and how he will face his rival in the ring.
"It will be a difficult fight, his style is complicated, but I can adapt to anything, I am ready for any style, and I am ready to win on May 4," declared Canelo.
Jacobs response
Daniel Jacobs, 32 years old, took the podium and thanked Canelo for giving him the opportunity to face him, assuring that the fight is for all the fans.
"Much respect to Golden Boy and Canelo for accepting this fight. You're a true champion and stepping in with another champion says a lot. I tip my hat off to you."
Jacobs pointed out that his legacy is on the line and what it will mean for him to beat Canelo Álvarez in May.
"My legacy is on the line; his legacy is already well-established so, for me, it's about capturing all the titles and solidifying my legacy for my own right, I never had a clean road, it has always been a long way, and May 4 will be the last obstacle to become the best," he closed.
Finally, he explained that despite been beaten by Gennady Golovkin in March 2017, he believes that his style will complicate things for Canelo, so the fights that both have held with the Kazakh will not serve as a parameter.