AS USA most read news - May 20th 2018
Andrés Iniesta's farewell from Barcelona dominated a day of championship in european basketball: Real Madrid won its tenth Euroleague.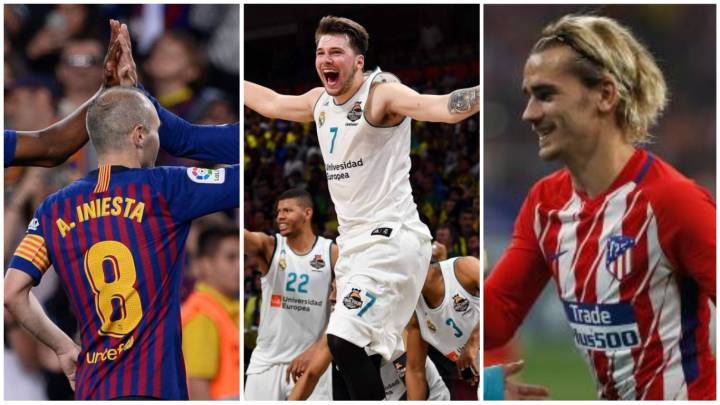 Chivas de Guadalajara is facing serious financial problems towards the next Liga MX season (Apertura 2018), starting next july. Team's main goalkeeper Rodolfo Cota has already left the team, and other star can follow him. That's why we tought about 7 transfers that could be useful for the mexican team: Jorge Torres Nilo, Néstor Araujo and Erick Gutierrez are some names.
Our live coverage of Real Madrid's consecration as european basketball champions by the tenth time in history. Madrid beat 85-80 Fenerbahce in the final four championship match, held in Belgrade, Serbia as Luka Doncic, probably first NBA draft selection, was awarded with the tournament MVP. Mexican player Gustavo Ayon earned his second european title after a problematic season, due to a long-term injury.
Our last Real Madrid game in LaLiga 2017-2018 live coverage. Zinedine Zidane's side displayed a magnificent first half of football, by winning 2-0 thanks to Gareth Bale and Cristiano Ronaldo. However, Villarreal came back in the second half and tied the game with goals scored by Samu Castillejo and Roger Martinez. Zidane´s middle son, Luca, made his first division debut, but he was not prolix. This was the last Real Madrid game before Champions League final against Liverpool next saturday.
The Camp Nou said goodbye to Andrés Iniesta in a irrelevant game against Real Socidedad. Philippe Coutinho, with an amazing goal, gave the best tribute to one of best players in Barcelona history. After the game, the whole stadium cheered Iniesta and the rest of Barcelona's players for celebrating the two championship earned this season: LaLiga and Copa del Rey.
Antoine Griezmann would become a new Barcelona player soon. According to catalonian newspaper Sport, the frenchman would have a 15 millon euros offer for joining Barcelona this summer. The deal is yet to come. Imagine Griezmann along with Luis Suarez and Lionel Messi in the same team...