MLS: Seattle Sounders vs Columbus Crew (1-0): Recap, goals, gifs, videos
Follow the game between the Seattle Sounders and the Columbus Crew, from MLS match day eight. Here, you'll find the game's most relevant images, videos and tweets.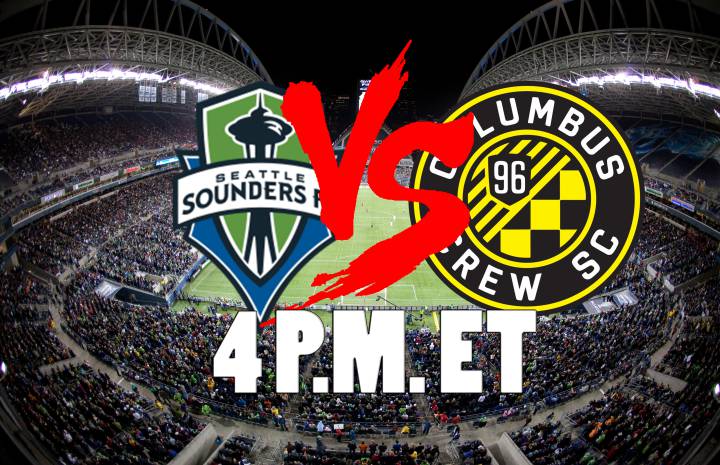 FULL TIME. SEATTLE 1- COLUMBUS 0
Min 90 | Kei Kamara shoots. Header After a pass from Wahl. The danger ends when the ball is finally cleared.
Min 88 | Gooooooaaaaaaaaal!!!!!!!Jordan Morris scores his third goal in three matches to give Seattle the lead
Min 86 | Substitution Oalex Anderson comes on for Gómez.
Min 85 | Tyson Wahl continues to impress on defense, rising up to head a Jones cross out of the box
Min 79 | Substitution Lucas Ontivero comes on for Bernier.
Min 78 | Valdez comes on for Dempsey.
Min 76 | Steve Clark deflects Gomez's shot near post. Six saves so far tonight
Min 70 | Substitution Off goes Justin Meram and on comes Cedric.
Min 69 | Pipa Higuaín finds Finlay in space on the right wing. He takes it on the dribble and his cross is blocked.
Min 64 | Substitution: Friberg comes on for Aaron Kovar
Min 64 | Kei Kamara gets a look at goal and Stefan Frei cuts off his angle to make the stop
Min 60 | Mears ask for a Hand Ball...
Min 56 | Jordan Morris looks for a shot and misses the frame as Steve Clark covers the near post
Min 50 | Dempsey attempts a back-post header, but Francis is right there with him to keep him off balance
Min 46 | Another save of Steve Clark. Today is... 'Superman Clark'
START OF SECOND HALF
END OF FIRST HALF
Min 45' | Who says a 0-0 has to be boring? What a first half!
Min 41' | Ethan Finlay shoots... ooooffff!! The pass was from Higuaín. Out of play.
Min 37' | Gomez gets an opportunity from the top of the box and strikes it straight at Steve. That's two on frame for SEA.
Min 32' | Chance for Higuaín. with left foot. After an individual move. Stefan Frei takes the ball.
Min 30' | Meram dribbles the distance and lays it off in the box, but the Sounders defend it well
Min 29' | Tchani takes another shot from distance. That's six total shots for the Black & Gold so far.
Min 26 | Yellow card to Osvaldo Alonso.
Min 25 | ¡It's been a exciting game until now with a lot of chances!
Min 21 | Ooooffff! Goal chance for Tony Tchani. with right foot. After a pass from Justin Meram. Out of play.
Min 15' | Osvaldo Alonso makes an individual move. The ball is cleared.
Min 12' | Chance for Afful. with left foot. After a pass from Higuaín. Stefan Frei saves.
Min 10| Almost!!!! Goal chance for Kei Kamara. Header The pass was from Waylon Francis. The danger ends when the ball is finally cleared.
Min 6 | Wow! Goal chance for Cristian Roldan. with right foot. He got the ball from Jordan Morris. The ball is out of play.
Min 4 | Chance for Gómez. with right foot. After a pass from Dempsey. The ball is out of play.
Min 1 | Peep! START OF MATCH
The teams are out!
Lineups
Seattle: Frei, Mears, Marshall, Scott, Jones; QAlonso, Dempsey, Roldán; Kovar, Gómez and Morris
Columbus: Clark; Afful, Parhurst, Wahl, Francis; Trapp,Tchani; Finlay, Higuaín, Meram; Kamara.
Welcome to AS USA's play-by-play for the Seattle Sounders vs Columbus Crew match, live and online on AS. The game will be played, today, April 30 at 4:00 p.m. ET at the CenturyLink Field in Seattle, Washington.
Live comments, tweets and photos: